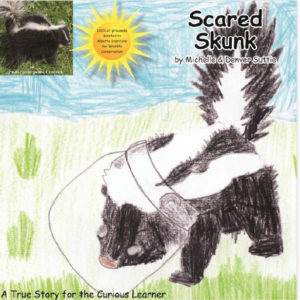 Have you ever wondered what can go wrong for a baby animal who is missing her mom? Or the trouble she may find from what humans have left behind?
Skunk shares her struggles in her true story about the loss of her mom, and an encounter with litter that leads her to the help she desperately needs.
This story is about a striped skunk kit.
Purchase your copy of AIWC's first children's book: "Scared Skunk" today! All proceeds from the sale of this book go towards supporting the care of injured and orphaned wildlife.
Scared Skunk is a perfect fit for children in grades K to 4, however, anyone at any age can learn from its true story and interesting skunk facts.
Purchase Scared Skunk online:
Cost: $15.00 CAD.
Shipping: $5.00 CAD.
Soft cover, printed on post-consumer paper.
21 pages.
Published: October 2016.
Authors: Michelle and Denver Suttie.
Product dimensions: 8″ x 8″.