2017 Internships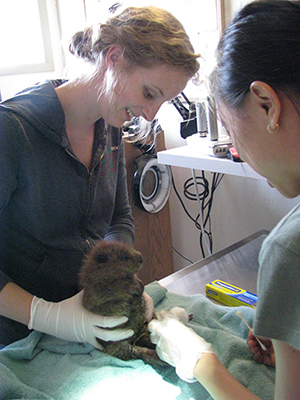 Since 1993, the Alberta Institute for Wildlife Conservation (AIWC) has been a champion for the rehabilitation of injured and orphaned wildlife. Accredited through the Alberta Veterinary Medical Association, AIWC serves the needs of Alberta's diverse wildlife in Calgary and southern Alberta.
As a registered charity, AIWC relies on charitable donations and dedicated volunteers to support the more than 1,800 varied animals in need of care every year. AIWC welcomes Alberta's injured, orphaned, and oiled wildlife, small and large, from hummingbirds to moose calves.
In 2017, AIWC is seeking individuals to fulfill an internship role at our wildlife hospital NW of Calgary. Interns will learn the essentials of how a busy clinic operates, and assist staff with examinations, lab work, treatments, and general husbandry.
Summary of Duties: 
Assist clinic staff with the care of patients including: exams, treatment, husbandry, diagnostics, euthanasia, routine lab tests, etc.
Arrange animal rescues, transport, and releases.
Answer and direct phone calls from the public and volunteers.
Record keeping and occasional office duties.
Housekeeping duties including laundry, dishes, floor cleaning, etc.
Assist with supervising volunteers.
Assist with facility and enclosure construction and maintenance.
Other duties as required.
Desired Qualifications: 
Must be 18 years of age or older.
Minimum high school diploma.
Careful attention to detail and ability to follow directions well.
Highly efficient, able to cope well with fast-paced, variable shift work.
Team player, excellent ability to communicate and work with others.
Ability to work independently and learn quickly.
Rabies vaccination would be preferred. Tetanus vaccination is required.
Knowledge of Alberta wildlife and natural history is an asset.
Valid class 5 driver's license and access to a reliable vehicle.
Term of internship period: Minimum of 8 weeks, maximum of 18, to be delivered between May 1st and September 15th 2017. Interns will be expected to volunteer 20-40 hours per week.
Stipend/remuneration: This is a volunteer position, providing practical work experience. This training is ideal for enthusiastic people with a strong desire to learn more about Alberta's wildlife. Accommodation is not provided.
Benefits:
$35 gas stipend for each day worked.
Wildlife handling and species identification skills.
Certificate of completion.
Wildlife rehabilitation skills, such as but not limited to: species identification, appropriate husbandry, gavage feeding, medication calculation, administering medications, and assisting with examinations.
Application Deadline: February 28th, 2017. E-mail cover letter and resume to the attention of Holly Duvall, Executive Director, at: holly.duvall@aiwc.ca.
For more information on AIWC, please visit our website: www.aiwc.ca
We thank all applicants for their interest in this position, but only those selected for an interview will be contacted.