We have a shared responsibility to wildlife. For as long as there have been people, there have been dangers to wildlife. Alberta Institute for Wildlife Conservation (AIWC) believes that our responsibility to wildlife goes far beyond the walls of our clinic.
Education programs emphasizing the importance of environmental protection may be the most important investment we can offer Alberta's youth.
Please note that for Fall/Winter 2020 all programs will be restricted to virtual presentations only, unless social distancing measures are possible at your facility. Please contact us at education@aiwc.ca or 403-946-2361 to discuss this more.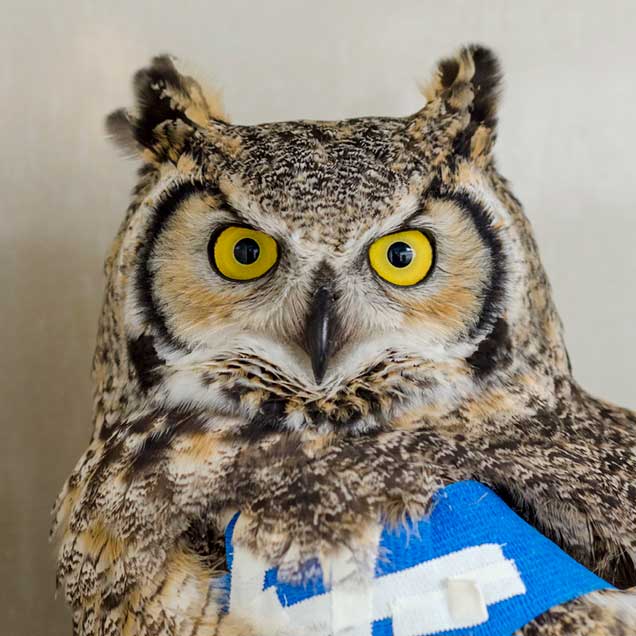 ABCs - Alberta bear care
New for 2020, "ABCs – Alberta Bear Care" introduces participants to the incredible lives of Alberta's two bear species. From how they live in the wild, to what we humans can do to protect our bear neighbours, we'll learn all about the bear necessities of life!
Adaptation
The Adaptation program focuses on the fascinating physical and behavioural characteristics that help our local wildlife survive and thrive in their environments. Features such as feathers, fur, talons, whiskers, and nocturnal and migratory behaviours are discussed.
Bat basics
Bat Basics introduces Alberta's nine bat species and discusses their life histories, the major threats to them, and how having bats around directly benefits humans. Though no live bats are present during this program, bio-facts and mounts are used to illustrate the differences between bat species.
Birds of prey
Our Birds of Prey program acquaints participants with the different birds of prey found in Alberta, including hawks, eagles, falcons, and owls. As well as exploring the life histories of these birds, the program also features bio-facts such as wings and talons.
Supremely skunks
Learn all about one of Alberta's most misunderstood creatures. During this program, skunk life histories and behaviour are discussed, and participants may discover that skunks actually make good neighbours!
Wetlands wildlife
Wetlands Wildlife introduces learners to wetland ecosystems, exploring topics such as the types of wetlands found in Alberta, the function of wetlands, and the animals that inhabit them.
Who's in your backyard?
A highly interactive program focusing on the common wildlife of Alberta. Participants will learn about local wildlife and why they are sometimes in need of rescuing.
Wildlife Rescue
Take a close look into the inner workings of a local wildlife rehabilitation centre, from field rescues to releases. During this program, participants will explore topics such as why animals are admitted to the clinic, what animals are currently there, and what to do if they find an injured wild animal.
World of Owls
This program delves into the 11 species of owls found in Alberta. Participants will learn about the special adaptations of these nocturnal birds of prey and how to identify local owl species. An owl pellet dissection can be added on for a fee. Please contact the education coordinator (
education@aiwc.ca
) at least one month ahead of your program date for costs and to request pellets.
Creatures and Climate
Did you know that climate change is already having an impact on wildlife in Alberta? Join us to learn more about how some of our wildlife species respond to climate change, why climate change is so challenging for wild animals to adapt to, and what we humans can do to help.
Presentations are approximately one hour long, with the exception of the World of Owls presentation, which includes dissecting owl pellets.
All programs can be modified as per the audience's age. Depending on the age-group and program, props, puppets, bio-facts, and PowerPoint slides are used in presentations. Are you interested in customizing a special presentation for your group? Get in touch with us at education@aiwc.ca.
Virtual Education Program (All Locations): $75
Zone 1 (Calgary, Airdrie, Crossfield, Cochrane): $150
Zone 2 (Bragg Creek, Canmore, Okotoks, High River, Didsbury, Carstairs): $195
* In-person groups can expect an additional fee of $4.00 per person for over 35 attendees.
** Requests for in-person programs outside of zones 1 and 2 are considered on a case-by-case basis, please contact us directly at education@aiwc.ca for more information. These programs will be charged a travel fee of $0.58 per KM traveled.
Our goal is to make wildlife education accessible to as many people as possible. Starting in January 2020, we will be offering one free wildlife education program through a random draw held each quarter. To apply to be entered into the random draw, please fill out this form. Owing to the ongoing COVID-19 restrictions, only virtual wildlife education programs will be delivered at this time.
All applicants will be entered into a draw, and one winner will be picked at random on the below dates:
Only one class submission per quarter is allowed, duplicate submissions in a quarter will be removed from the draw. Have questions? Email us at education@aiwc.ca