What does the Alberta Institute for Wildlife Conservation do?
The Alberta Institute for Wildlife Conservation is a registered charitable organization that is committed to the rescue, rehabilitation, and release of injured and orphaned wildlife. We also possess an established Wildlife Education Program. Through outreach programming, we're working to creating strong co-existence between Albertans and wildlife. In 2017, our education team provided wildlife education to more than 4,110 members of the public.
What species of animals does Alberta Institute for Wildlife Conservation admit?
The Alberta Institute for Wildlife Conservation is permitted by both the federal and provincial governments to rehabilitate wildlife. We are fortunate to have a fully functional and accredited veterinary hospital which allows for us to treat and accommodate wildlife in need. Since our founding, we have admitted over 31,000 individual animals.
What species of animals can the Alberta Institute for Wildlife Conservation not admit?
The Alberta Institute for Wildlife Conservation is not permitted to care for: adult Deer, adult Moose, Wolves, Bears, Cougars, Bighorn Sheep, Mountain Goats, adult Skunks and Coyotes of all ages. For all of those listed above please contact Calgary Fish and Wildlife at (403) 297-6423.
For all other wildlife please call our wildlife hotline at (403) 946-2361.
How many staff and volunteer help AIWC operate?
Year round, we have 6 full-time staff and 4 part-time staff, and we rely heavily on a team of 130 volunteers.
Can Alberta Institute for Wildlife Conservation relocate animals?
Alberta Institute for Wildlife Conservation does NOT provide relocations services. At Alberta Institute for Wildlife Conservation, we believe in cultivating a strong co-existence between Albertans and wildlife.
Live-trapping and relocating or killing an animal is not going to solve human/wildlife conflicts. While trapping may seem like a more humane option, it is often a death sentence for the animal and leaves them in a new area, not knowing where to find food and shelter, and potentially encroaching on another animal's territory.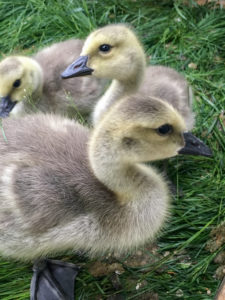 Trapping an animal is only making room in that area for a new animal to move in. In certain periods of the year, there is also a great risk of separating mothers from their young.
Without their mother, the young often perish.
The Humane Society of the United States has a wealth of information on humane deterrents for wildlife.
I found an injured or orphaned wild animal, what should I do?
It is always best to give our Wildlife Hotline a call first (403) 946-2361. With help we will be able to then determine the nature of the ailment, and establish the next best step to proving care and treatment. Calling our hotline first will also enable us to ascertain whether the animal is in fact in need of assistance, or if they should be returned to the wild.
If you do not get through the first time it is always best to leave a detailed message with your name, number and reason for calling and someone will get back to you as quickly as possible. We are most likely conversing with another caller, or attending to our many patients.
What are your hours of operation?
Alberta Institute for Wildlife Conservation is open from 9:00am – 5:00pm during the Winter, 365 days a year. During the Spring and Summer, due to increased patient intake, we are open typically from 8:00am – 9:00pm, though our hotline services are only provided from 9:00am to 7:00pm in order to better serve the patients that we already have on-site.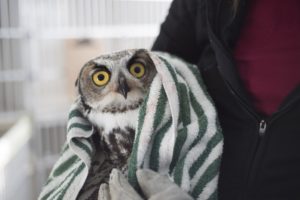 Can I bring my family to come and see your facility?
We are not open to the public. We are first and foremost a wildlife rehabilitation hospital. Many of our recovering patients are incredibly stressed, due to their injuries and the nature of being in captivity, so interaction with the public would be a highly traumatic experience for them. We try eliminate as many stressors as possible with our wildlife, as stress can – in the worst case scenario – be fatal or seriously inhibit their rate of recovery.
Our Staff and Volunteers take every possible precaution to eliminate personal interaction with our patients (even eye contact!), in order to provide them with a fast, stress-free recovery!
We do, however, provide yearly on-site talks and presentations. The information regarding these seminars can be found here; https://www.aiwc.ca/news-and-events/upcoming-events/
Can Alberta Institute for Wildlife Conservation bring an animal for show and tell?
The Alberta Institute for Wildlife Conservation does not have any educational animals.
Where do you do rescues? Why do you only do rescues in and around the Greater Calgary Area?
Our dedicated Rescue Volunteers can go as far north as Didsbury, west to Canmore, east to Strathmore, and south to Nanton. This is not a service area for where we will admit wildlife from! We admit wildlife from all across Southern Alberta, however, arrangements need to be made by the finder to bring the patient within our accessible service area.
Care and treatment for our wildlife patients is our number one priority. It requires an incredible amount of resources to run our wildlife hospital which means that whatever resources we have for rescues is severely limited. We need to utilize what resources we do have wisely, by keeping to pickups and rescues from our outlined service area.
What happens if Alberta Institute for Wildlife Conservation is closed?
We are affiliated with many neighbouring veterinary clinics in the cities of Calgary, Airdrie, Cochrane, Strathmore, Okotoks and many more! They are usually willing to take in orphaned/injured wildlife temporarily until such a time as we can deploy a rescue driver to pick them up. A vet clinic can keep them safe and warm overnight, and ensure that they get to us in order to receive the care they need.