Although the majority of robins have migrated back to Alberta from as far south as southern Mexico and Guatemala, some robins actually choose to overwinter in Alberta and the rest of Canada.  That's because robins base their decision to migrate on whether or not there is enough food to sustain them over the winter, and not as much about the weather – no matter how harsh our winters can be.
In the spring and summer when the ground thaws, robins eat earthworms and insects.  In the fall they switch to eating berries from trees like mountain ash or chokecherries. If they choose to overwinter in Alberta they spend time travelling from place to place in search of more berries.
Male and female robins look very similar, with the main difference being that female robins are a lighter coloring than males. Females have a lighter grey head and a lighter red-orange breast.
Females are the nest builders which takes them anywhere from two to six days, and an average of about one hundred and eighty trips a day of bringing grass and mud to their nesting site to do so.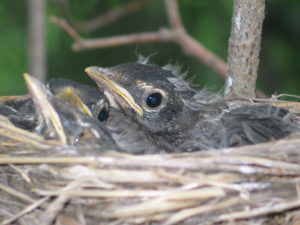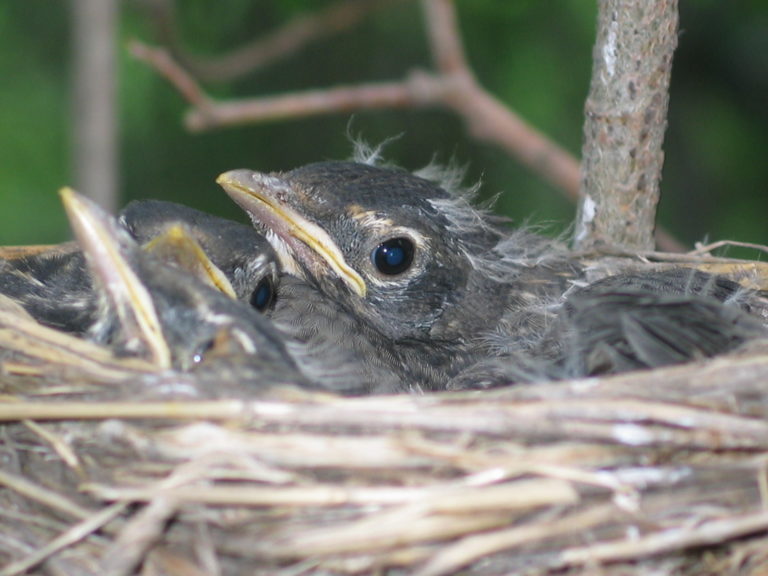 Robins may lay two to three clutches—or sets of eggs—a year, starting in late April or early May. Both females and males feed and care for three to four nestlings once they hatch, and provide each one with thirty to forty 40 meals each a day.
Nestlings fledge their nest at approximately thirteen days old, where they are vulnerable to predators like blue jays, magpies and other birds, as well as squirrels, cats and dogs until they can fly.
Another thing that is fatal to robins (and all birds) once they are able to fly, is windows.  Two reasons robins fly into windows are:
they do not realize the glass is there and just see the reflection of a tree or branch they think they can land on,
they are being territorial and think that their reflection is another robin coming toward them.
In most cases, robins don't sing until they have arrived on their breeding territory – it's their way of saying "I'm home".  So give them something to sing about by doing your part to keep them safe:
Keep your cats or dogs inside or closely monitored during nesting season (especially if you know there is a nest nearby).
Place decals, stickers, sun catchers, transparent film, netting or outdoor shutters on the outside of windows.  If building a new house or replacing windows, consider screens on the outside of the window as an option.
Do you have robins nesting in your garden already?
Some of the information gathered for this blog came from:
Canadian Wildlife Federation at cwf-fcf.org/en/discover-wildlife/flora-fauna/…/american-robin.html
Journey North at https://www.learner.org/jnorth/robin